View high resolution
Sit down and learn some shit.
On the right, we have the Mexica (Aztec) Piedra del Sol. The Sun Stone. The Aztec Calendar. It's about a dozen feet across and weighs more than a truck. Despite the name we don't really actually know what it was used for. Some say it was basin for an altar. Others think it tells the story of disasters which brought the people who built it to Tenochtiltan. Educated hypotheses are really all over the place; realistically, it was probably used for a couple of these purposes, including time-keeping.
However, from it we do know that the Mexica had a good grasp on geometry and math given the stone's symmetry. The shape also suggests that the Mexica were aware and in tune with the cyclical nature of time and the progression of the seasons and the cosmos.
On the left we have the Mayan Haab'. The Haab' corresponds to the solar year. It shares the most in common with the Christian calendar we use today. And it's actually a confirmed calendar. There was also a Tzolk'in caledar of about 260 days for sacred purposes. The Long Count is the one purported to predict the end of the world. Which is not true, and something I discussed here.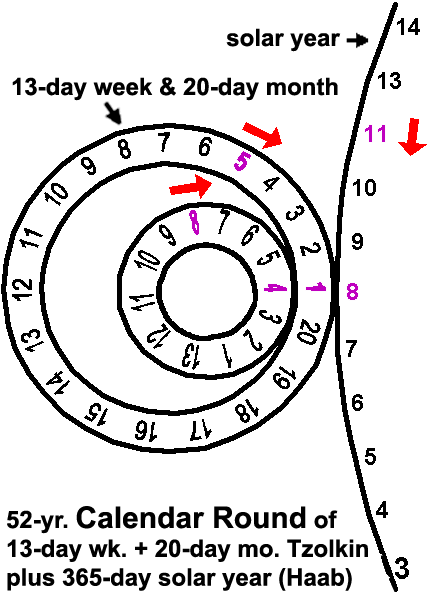 So that smallest circle measures the week, the medium one measures the month; they make the Tzolk'in. And the HUGE one is the Haab' and has all those 365 solar days. It's complicated.
There's a lot of really cool and moderately accurate information on the web. Here you can actually interact with the Tzolk'in and see how it works - even for today's date. This site has good info about the Piedra del Sol, but it is from a cosmology course so bear that in mind. This site lays out the Long Count and what each particular digit means and where it comes from and why the world's not going to end in three weeks. Because you haven't heard enough of that from me.